W‌ith new concerns over the effects of the Affordable Care Act (ACA)[1] on access to care and continued frustration with third-party reimbursement, innovative care models such as direct primary care may help to provide a satisfying alternative for doctors and patients. Doctors paid directly rather than through the patients' insurance premiums typically provide patients with same-day visits for as long as an hour and offer managed, coordinated, personalized care. Direct primary care—also known as "retainer medicine" or "concierge medicine"[2]—has grown rapidly in recent years. There are roughly 4,400 direct primary care physicians nationwide,[3] up from 756 in 2010 and a mere 146 in 2005.[4]
Direct primary care could resolve many of the underlying problems facing doctors and patients in government and private-sector third-party payment arrangements. It has the potential to provide better health care for patients, create a positive work environment for physicians, and reduce the growing economic burdens on doctors and patients that are caused by the prevailing trends in health policy. With some specific policy changes at the state and federal levels, this innovative approach to primary care services could restore and revolutionize the doctor–patient relationship while improving the quality of care for patients.
In general, direct primary care practices offer greater access and more personalized care to patients in exchange for direct payments from the patient on a monthly or yearly contract. Physicians can evaluate the needs and wants of their unique patient populations and practice medicine accordingly. Patients relying on a direct primary care practice can generally expect "all primary care services covered, including care management and care coordination … seven-day-a-week, around the clock access to doctors, same-day appointments, office visits of at least 30 minutes, basic tests at no additional charge, and phone and email access to the physician."[5] Some practices may offer more services, such as free EKGs and/or medications at wholesale cost.
This approach would enable doctors and patients to avoid the bureaucratic complexity, wasteful paperwork and costly claims processing, and growing frustrations with third-party payer systems. It can also cultivate better doctor–patient relationships and reduce the economic burden of health care on patients, doctors, and taxpayers by reducing unnecessary and costly hospital visits.
While the rapid growth in direct primary care is a relatively recent trend, policymakers could help by eliminating barriers to such innovative practices and creating a level playing field for competition. At the state level, policymakers should review and clarify existing laws and regulations, repealing those that impede these arrangements. At the federal level, policymakers should consider facilitating greater access for patients to direct primary care through the federal tax code and also within existing federal entitlement programs.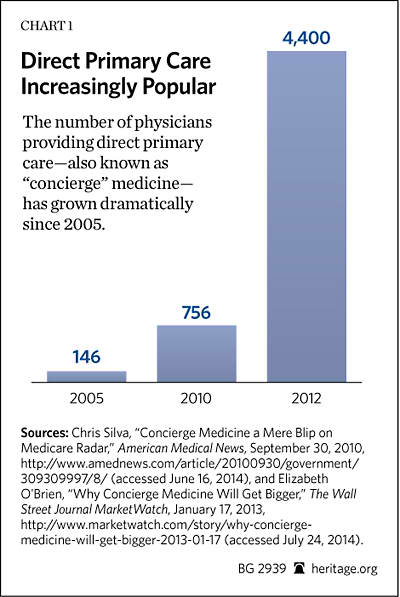 The Benefits of Direct Primary Care
While direct primary care is not a new development, it has been given new life because of the growing concerns over the impact of the Affordable Care Act on access to care, such as the doctor shortages,[6] narrow networks,[7] and frustrations and failures that doctors and patients have experienced with third-party reimbursement.
Before the rapid growth of employer-based health insurance coverage in the 1940s, Americans paid directly with cash for virtually all of their health care. With the rise of third-party health insurance after World War II, cash payment for medical services declined sharply. Doctors, hospitals, and other medical professionals increasingly were reimbursed through third-party insurance, which often provided "first dollar" coverage. Superficially, this seemed to be efficient, quick, and easy, but it had the unintended consequence of making health care financing largely opaque. This hid the true cost of services, leaving patients with the false impression that their employers paid for their medical expenses, except for the occasional co-pay, deductible, or coinsurance.
This major transition in American health care financing during the 1940s left physicians to seek reimbursement from patients' insurance companies. Over time, the third-party payment systems in both private health insurance and public programs, such as Medicare and Medicaid, have become increasingly complex and costly, less transparent, and more economically inefficient.
In light of these mounting complexities and inefficiencies, increasingly dissatisfied doctors and patients are looking for innovative ways to deliver and receive primary care. Direct primary care has become a viable solution for many Americans.
Professional Decline. For many physicians, the traditional third-party payer model is becoming increasingly unattractive. A survey by the Physicians Foundation found that most doctors are profoundly dissatisfied and believe that their profession is in decline. Among the "very important" reasons that they give for the decline are too much regulation and paperwork (79.2 percent of physicians); loss of clinical autonomy (64.5 percent); lack of compensation for quality (58.6 percent); and erosion of physician–patient relationship (54.4 percent).[8]
In Medicare and Medicaid, these shortcomings are exacerbated by their outdated payment models, which routinely underpay physicians relative to the private sector while increasing regulatory and reporting requirements as a condition for continued participation. The Affordable Care Act has only increased these regulatory burdens.
For a typical physician, "half of each day can be consumed with clerical and administrative tasks, such as completing insurance claims forms, navigating complex coding requirements, and negotiating with insurance companies over prior approvals and payment rates."[9] The Direct Primary Care Coalition estimates that 40 percent of all primary care revenue goes to claims processing and profit for insurance companies.[10] A typical physician would need 7.4 hours per day to provide all of the preventive care as determined by the U.S. Preventive Services Task Force.[11] Such time commitment is unfeasible when physicians must spend several hours per day on clerical work. Declining reimbursements have prompted primary care providers to see more patients in an attempt to maintain stable income. This means that each visit is only long enough to address the bare essentials, seldom more.
Read Full Article HERE